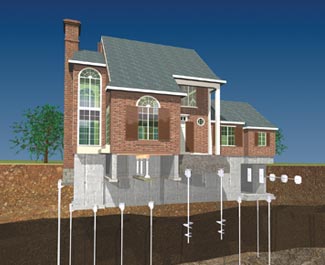 Foundation problems are very common in this area of the country. Knoxville with our hot summers and our cold wet winters combined with our periodic dry spells and our periods of heavy rain when the ground is saturated completely down to the deeper soil levels of the earth, make our area especially vulnerable to foundation problems.
Foundation settlement problems are common even for the mere fact that homes are heavy and many soil types that they are built on have poor load bearing capacity. Foundation settlement can happen over time when soil settles or rain water erosion under the foundation footers occurs.
Older homes are built on less substantial foundations in many instances and newer homes in many subdivisions are built on planned development elevations that require the use of pushed up and graded backfill earth to provide the designed home building lots. Backfilled ground does not have the load bearing strength of natural undisturbed earth.
Knoxville General Services works out of both our Farragut location and our shop in Perimeter Park, West Knoxville. We are a small-but-professional organization, and we owe our success to our commitment to serve our customers and our efficient, streamlined operation.
Knoxville General Services, LLC is a full service Foundation Repair Company. Our customers also include retail, commercial, and industrial clients, who use our services for their repair and structural concerns.
We have foundation, structural specialists, and other craftsmen, all performing their tasks under the direct supervision of our general manager. This allows our organization to maintain excellent quality-of-service while still providing efficient response times. All of our customer-friendly workers are professionals in their field of expertise.
Through the years we have developed a reputation for dependability and have been recognized for "Excellence in Service and Workmanship." Knoxville General Services, LLC is an "Award Winning Company".
Our Service Warranties are verifiable through the Better Business Bureau, of which we have been members from the start, and we are proud of our A+ rating from the BBB.
All calls to our company are returned by the general manager, who started the company and who still continues to take all calls for estimates, service requests and maintains Knoxville General Services' high standards for customer satisfaction.
"Our Customer Service is Rock Solid and Your Foundation Will be Too."