Foundation Waterproofing and Drainage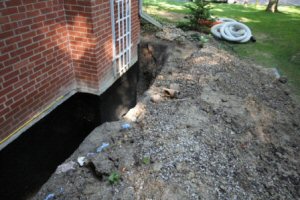 It is important to keep your homes basement or crawl space dry for a variety of reasons such as preventing water damage to the homes structure, your personal contents  and in order to prevent mold and mildew. Lack of a proper footer drainage system can also cause water erosion which underminds the integrity of the foundation footer as well as allowing water penetration into the home's interior.
For a permanent Foundation WaterProofing Solution™ we provide the proven procedure of:
• Cleaning the masonry wall thoroughly
• Mortar repair of cracks and loose masonry
• Applying the waterproofing membrane to the foundation
• Installing a footer drain line
• Backfilling with gravel against the foundation wall 
• and if required, installing a rainwater runoff diversion to direct surface water away from the home as may be needed when a hill or sloping grade of land runs down towards a wall of the home.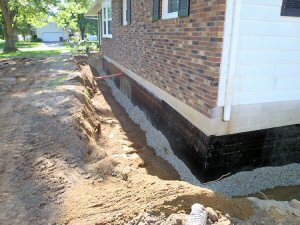 This is a permanent repair procedure that we provide and stand behind to correct foundation water problems.
If you have experienced mold or mildew, damaged drywall or wood support framing or other damage from moisture and water penetration we provide full restoration as part of our services.
.
We offer the longest verifiable warranty in Knoxville.
"No More Water Penetration Makes a Dry, Healthy and Happy House for Habitation"